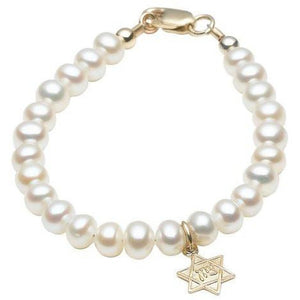 14 KT Children's Pearl Naming Star of David Bracelet (5 IN)
Original safety bracelet with genuine 14 KT gold and freshwater pearls.
Size for first birthday age 12-24 months. 
Freshwater pearls 5-5.5 mm. Potato shape - near round
Strung on wire to protect young children from choking hazard.
14KT  Star of David charm is imprinted with the Hebrew word Zion.  This is a reference to the holy land and Jerusalem. 
We guarantee lifetime restringing.
Return your bracelet when your infant grows into a bigger size. Enclose the size needed, (no yarn please), the bracelet and a check for $12 payable to Mindy Harris Juvenile Jewelry LLC which includes shipping. Your bracelet will shipped back to you within 14 days. 
---
We Also Recommend