News — Necklaces
Posted by ShopPad Support on

Use Discount Code MYMIO2018 to save 20% on your first Mio Memento order. Build your personalized story necklace. Three sizes. $12.99- $25.99.
Posted by mindy harris on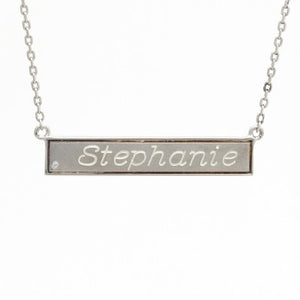 As school begins some teachers are greeted by children with monogrammed back packs, water bottles, nap blankets and lunch bags. Its been a trend that originated back in the days of letters being sealed with wax and imprinted with the stamp and monogram of the sender and a return address. Today it is safer for kids to have a name tag somewhere on them in case they need to be identified if lost and misplaced. Medical information can be discreetly added to the back of a name bracelet or bar necklace. The older styles of medical alert jewelry can be...